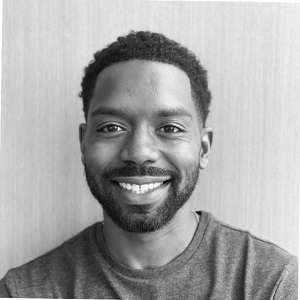 Associate Relationship Manager
Gyasi Sutherland is a relationship-building master with over ten years of experience in marketing, sales, and development. He joined VentureDNA in 2022 as an Associate Relationship Manager, where he uses his extensive network and business contacts to help young, diverse companies position themselves for the next stage of growth and success.

Before joining VentureDNA, Gyasi worked in the media and music business, where his passion for storytelling and creativity allowed him to excel in production technology and marketing. He studied Marketing and Media Production at Columbia College in Chicago and participated in the Creative Media Technology Program at the SAE Institute of Technology-Chicago.

Gyasi is one of the co-founders of HEIRS FARM, NFP., a charitable social enterprise that strives to promote access to fresh, healthy, culturally relevant food choices in historically excluded communities. The organization also works towards addressing systemic inequalities and promoting economic empowerment. In 2021, HEIRS FARM was recognized as the winner of Pitch @ Illinois Tech for their project.

Gyasi believes in the power of personal relationships and creative philosophies to drive business success. He's passionate about using technology to advance how humans connect, communicate, and learn. He understands the importance of trust, honesty, and transparency in business and is committed to building lasting relationships with his clients.

When he's not working, Gyasi enjoys producing music, exploring new technologies, traveling, and spending time with his family.